Hey guyssss! 8D
Born: January 19, 1990! That makes me 23.

!!!
Country: USA (EST)
Likes: Big swords, arenas, friendship!, sleeping, OATS
Dislikes: Lag-induced death, being slow, mornings
Other:
I graduated from college in 2012 with a degree in history, and I'm still trying to figure out what I want to do with my life.
I am just as enthusiastic in real life as I probably appear to be online, if not more so.
The Six in my IGN comes from the suffix that goes with my name, as I am the sixth.

I also wear lots of black and high heels.
I can't think of what else to say because I am boring and weird, so here is a gif I made of me twirling in a funny dress:
http://makeagif.com/i/CwHmj7
Also I definitely almost posted this as the Admin account, which I also have access to because I'm the one that started this forum. <3 Therefore, if you have any questions about it, I will do my best to help.

Also, Poku just asked if my hair is red like my character, and it used to be! This is from when I was 16. >w>;;;;; so long long time ago, egads.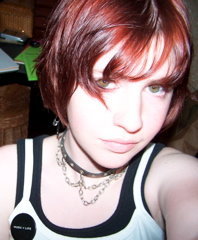 _________________
BANG
BANG
BOOM
Admin




Posts

: 149


Join date

: 2011-05-07


Age

: 29


Location

: Delaware



Bump because Mary!

And whoa, 16 year-old you would kick my butt so hard.
_________________

Buh.
Admin




Posts

: 323


Join date

: 2011-05-07


Age

: 29


Location

: Singapore



Yeah. People were scared of me, kinda. Which is funny. Hehehe.
_________________
BANG
BANG
BOOM
Admin




Posts

: 149


Join date

: 2011-05-07


Age

: 29


Location

: Delaware



---
Permissions in this forum:
You
cannot
reply to topics in this forum