Hello all,
After a while of not playing Spiral Knights (1-2 years I don't remember how long), I have returned to the guild

So, for those that don't know me I shall introduce myself.
First of all ingame I go by the name of GoldenFighter, but that was because my normal game name (zeggy/z3ggy) was already taken

so feel free to call me whatever you like.
I am almost 22, have finished university, and now have a job as a software developer. I live in Brisbane (Aus).
Hmmm... things I like, they would be: Swords, bomb, those clover like boxes, spining around and around with a sheild on, the music to the Jelly King floors, techno music and anime.
My dislikes would be: beggers, missile gun puppies, and long days at work x.x
See you all ingame!
EDIT: Here is a random picture! was taken in July 2011, when I went to Supernova with some friends. I went as the Main character from Star Driver (For anime fans here...) and I happened to run into one other person in the same outfit! so I took a photo. I like his costume slightly more then mine x.x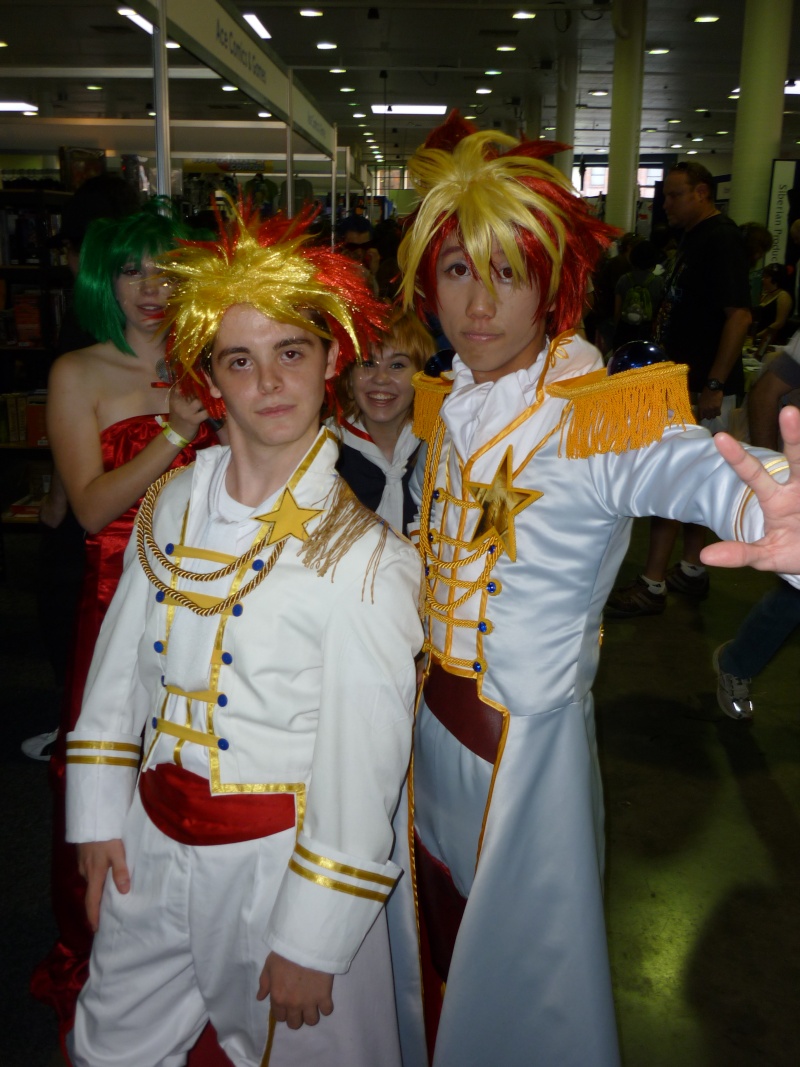 Last edited by GoldenFighter on Mon Apr 22, 2013 9:31 am; edited 2 times in total (Reason for editing : Photo added :))



Posts

: 15


Join date

: 2013-04-21


Age

: 28


Location

: Australia/Down Under/That place west of New Zealand



Welcome!
I enjoyed the quick JK runs very much




Posts

: 21


Join date

: 2013-04-07


Age

: 34


Location

: The Netherlands



No problem, i enjoy a good Jk run, so I'm happy to help fellow oats with it.

Also happy to join in any other boss run:
Snarbly - ive done many times, easy stuff.
Jk- I can't solo, but with a party its pretty easy.
Twins - I have never done, but am happy to tag along to try it.
Vanduke - only did it yesterday for the first time, so I am still getting used to it, but I only died 1 or 2 times a run with a full party, so I can help out abit with these too.

Missions:
I am upto rank 6-2 at the moment, and am happy to do either those with people or help people with earlier missions. I also have Operation Crimson hammer mission, and have soloed it on T1, but have never it on t2 or t3. I'd love to join a run if people are wanting to do this.



Posts

: 15


Join date

: 2013-04-21


Age

: 28


Location

: Australia/Down Under/That place west of New Zealand



Welcome back, Zeg! We've missed you!

I haven't been able to catch you on lately, but hopefully we'll be able to run together again soon!
_________________

Buh.
Admin




Posts

: 323


Join date

: 2011-05-07


Age

: 29


Location

: Singapore



Photo added!
Also for the sake of it, here is a link to my original intro I wrote when i first joined the guild. ( yes its using a different forum account, but silly me stuffed up the account name so i thought I should remake it.) Obviously some of he details in it are out of date, like my ingame gear, but most of it stands true.
http://oathkeepers.forumotion.com/t142-hello-everyone
Last edited by GoldenFighter on Mon Apr 22, 2013 9:51 am; edited 1 time in total (Reason for editing : Link added)



Posts

: 15


Join date

: 2013-04-21


Age

: 28


Location

: Australia/Down Under/That place west of New Zealand



---
Permissions in this forum:
You
cannot
reply to topics in this forum